Continuing our armchair travels, this week we're heading off for some well-deserved sunshine with my special guest Lynne Shelby.
I never know what's going to inspire me to write a book. Very often it's an overheard conversation on a bus or train, or a photograph, but with my new novel, Love On Location, it was the location – a Greek island – that inspired me before I had any ideas about the characters or plot.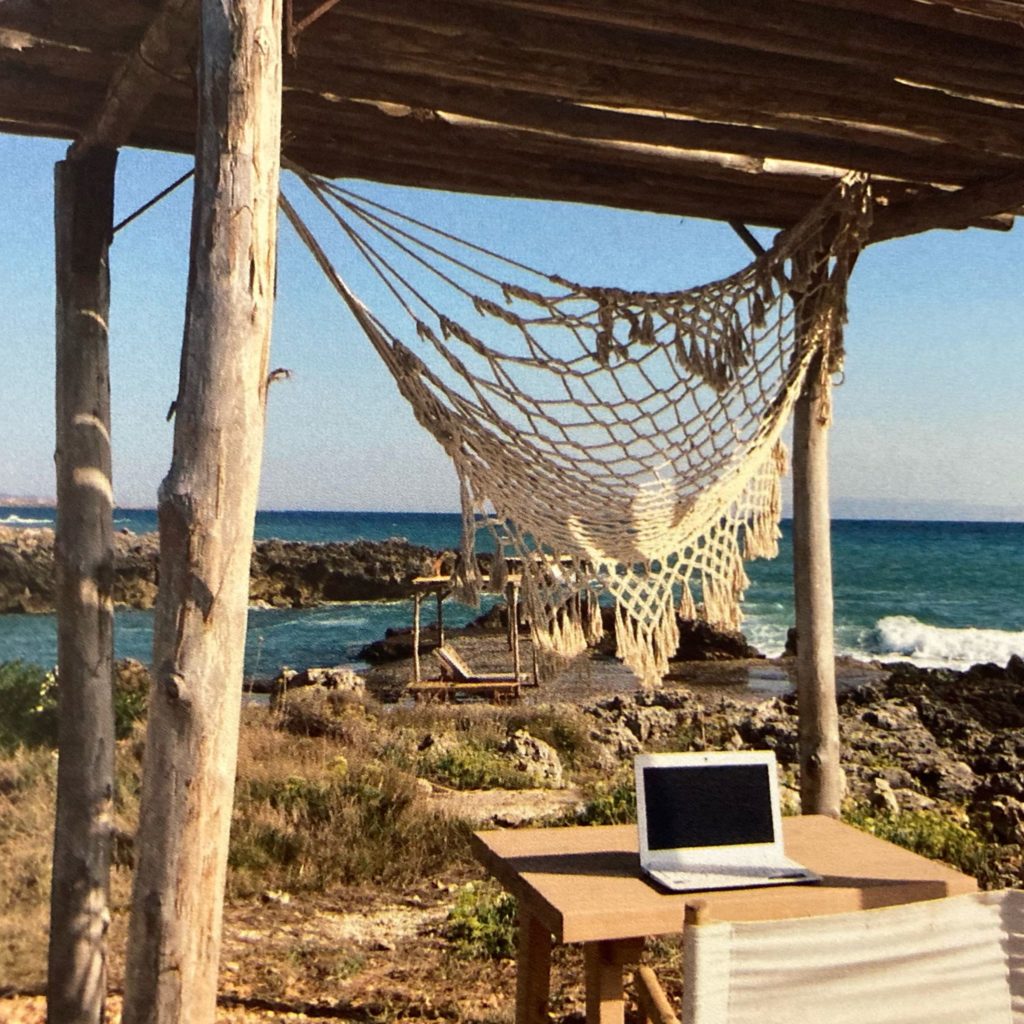 I was on holiday on the island of Kefalonia when I knew that I simply had to write a book set in beautiful Greece. The off-the-beaten-track place where I was staying consisted of just a few typically Greek sugar-cube-style villas, each with its own turquoise swimming pool. Right next to a small rocky beach, with nothing to see along the coast in either direction, and reached by a dirt road, it was like a picture postcard. There was even a wooden table at the top of the beach, under an awning of palm leaves, which became my writing room, and sitting there, looking out over the impossibly blue Aegean to the horizon where the sea merged into the sky in a haze of heat, the outline of the story that eventually became Love On Location, began to take shape. When my heroine, Laurel, a screenwriter, and my hero, Jason, join a film crew on location in Greece, they stay in a villa very much like the one I stayed in, and Laurel writes her film script at the same table shaded by palm leaves where I started jotting down ideas about her story.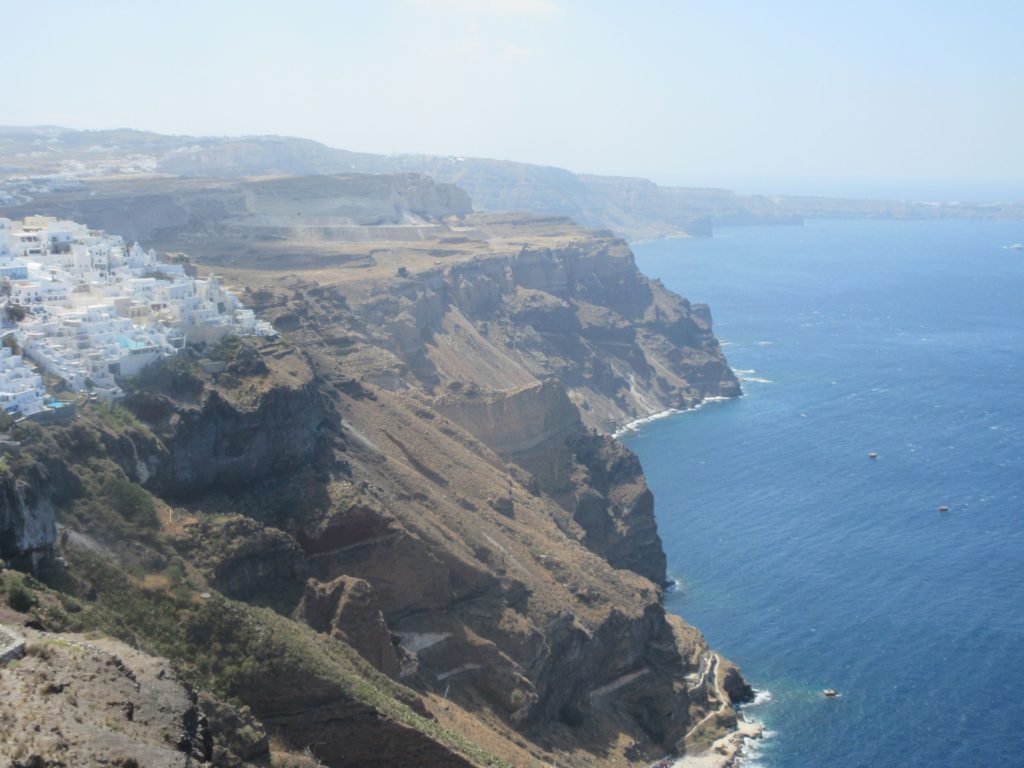 The other island that inspired the location of the book is Santorini, another incredibly beautiful place, famous for its views over a sea-filled caldera, the remnants of a volcano that erupted three thousand years ago and gave the island its crescent shape. The first time I visited was on a cruise, with just one day ashore, but I found the landscape of sheer cliffs plunging into the sea absolutely stunning. A few years later, on an island-hopping holiday, I visited Santorini again and had more time to explore. When I came to write Love On Location, I wanted Laurel and Jason to see the same picturesque villages of white houses with blue shutters at the windows and cobbled streets, and the views of the caldera that I'd found so breath-taking. The island is also famous for its gorgeous sunsets, and watching the huge orange globe of the sun sink into the sea from a cliff-top village, I couldn't help but think how I might write this romantic scene into a book. Santorini also has some fascinating ancient ruins – the remains of the city of Akrotiri – and a visit there inspired me to make my hero, Jason, an archeologist who is just as passionate about his work as Laurel is about the movies.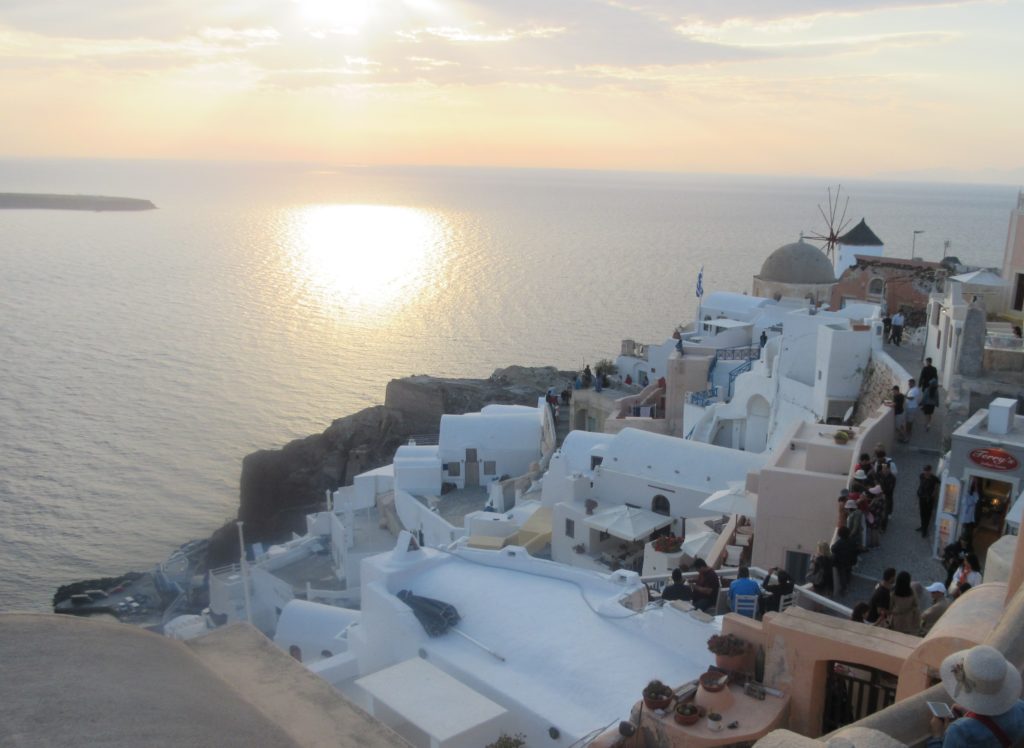 When it came to writing the first draft and choosing the island that would be the setting for Love On Location, I couldn't decide between Kefalonia and Santorini, as both had places that were ideal for certain scenes in the book, but neither had everything I needed. In the end, I merged the two islands into the fictional Kyros. Not that anyone needs the excuse of research to visit the Greece, but after I'd written the book, I took another trip to Santorini, to remind myself of small details about the Greek islands that I might have forgotten, and the sounds and scents that do so much to create a sense of place.
I hope that in Love On Location, although Kyros is fictional, I've managed to convey the real atmosphere of an idyllic Greek island.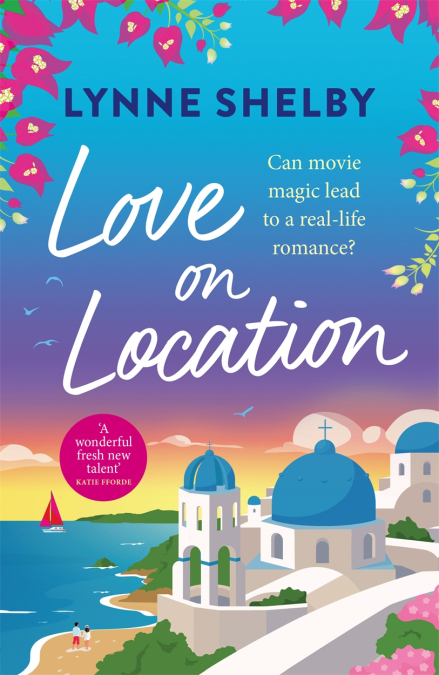 About Love On Location
When Laurel Martin is hired to rewrite the script for a new timeslip movie, she expects the historical advisor hired by the studio to be an elderly academic who won't interfere too much with her writing. But when she meets Professor Jason Harding, a young and unexpectedly handsome archaeologist who has his own ideas about the script, she realises the job isn't going to be as simple as she first thought.
As their work takes them from arguing over historical details in a cramped London office to discovering the hidden beauties of a Greek island, Laurel and Jason's relationship starts to echo the romance of their script.
Will movie magic lead to a real-life love story?
Buy Link
Amazon.co.uk: Lynne Shelby: Books, Biography, Blogs, Audiobooks, Kindle
Website: www.lynneshelby.com
Twitter: @LynneB1
Facebook: www.facebook.com/LynneShelbyWriter
Instagram: lynneshelbywriter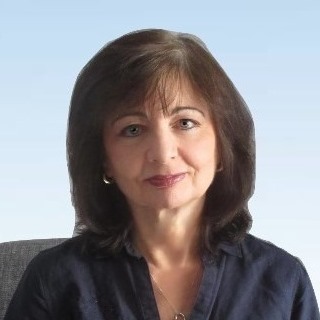 Author Biog
Lynne Shelby writes contemporary women's fiction/romance. She was first published when her debut novel, 'French Kissing' won a national writing competition. She has done a variety of jobs from stable girl to child actor's chaperone to legal administrator, but now writes full time. When not writing or reading, Lynne enjoys visiting the theatre or exploring a foreign city, writer's notebook, camera and sketchbook in hand. She lives in London with her husband, and has three adult children who live nearby.
Many thanks to Lynne for taking part and for giving us a taste of Greece. I think it would be hard NOT to be inspired by those wonderful views, and I'm sure I'm not alone in wishing I was there right now!