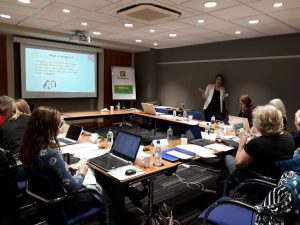 Unlike my daughters who are never located more than a couple of centimetres away from their mobile phones, I can remember life before social media. The good old days, the days when writers parcelled up their precious copy of a typewritten manuscript in brown paper and sent it off into the world via the post office, and then sat back and waited for somebody else to do all the hard work of publishing and publicising it.
Today, a writer doesn't just have to be able to create a good story, they have to have the necessary skills to market it too.
W
ith this in mind I signed up for a one-day course on Social Media for Writers run by Anita Chapman of Neetsmarketing. I'd discovered Anita through the Romantic Novelists Association and had already followed her useful beginners on-line guide for getting started on Twitter.
The course took place at the Bloomsbury Holiday Inn in London just a few minutes walk from Russell Square tube station. There were ten delegates in total, a mix of the published and unpublished, social media novices and those with a little more experience.
For me, navigating my way around social media is like learning a new language, but if I'm serious about my writing I have to face my fears. I always wondered how people had the time not just to tweet, but to respond and re-tweet with such regularity, and now I know. Not only that, but as with every form of communication Twitter has its own etiquette –

knowing when to join a conversation and when to butt out, along with who, how and when not to, thank, is vital for on-line credibility.
As well as Twitter, the workshop covered Facebook, Instagram and blogging. I have an issue with Facebook. My 'friends' are genuine friends, some I've known for years, others I've picked up on my travels. I'm protective of my privacy and unsure whether I want my writing platform intruding into this personal space. Apparently its common dilemma for authors, and something I'll have to think seriously about. In the meantime, I learned how to create a separate Author Page – vital for when that magical publication day arrives.
Anita stressed the importance social media has in establishing and promoting an author brand.
T
he class size was manageable enough for her to answer individual queries and gripes.

Although there were worksheets and hand-outs, I never felt under pressure to complete tasks; it was very much a question of working at your own pace to gain confidence to apply the new skills. I've blogged for several years, but writing about life as an ex-pat came easy, albeit somewhat low-key; publicising my as yet unpublished work requires a very different mind-set.
Apart from the obvious educational benefits, Anita's course provided an enjoyable opportunity to network with fellow authors, make new friends, and eat cake.
And finally, the two vital lessons I learned. First, it is perfectly ok to Tweet pictures of my cat; cats don't just bring comfort, they can bring connections. And secondly, in today's literary market it's no longer the importance of being earnest that counts, but the importance of using that hashtag.