This week I am delighted to welcome fellow  Crooked Cat author Nicola Slade to my blog. Nicola was the first 'Cat' I met after I signed my publishing contract and I value her friendship and support. She lives near Winchester and also sets her novels in Hampshire
Thank you, Rosie, for inviting me to talk about my comfort reads.
I have so many old friends that I read over and over again that it would be difficult to limit them to only five, so I thought I'd mention a few of the much more recently-discovered books that have quickly become comfort reads.
I can't abandon all my much-loved treasures though, so here's my top favourite, the book I think of as my Desert Island book. The Pillars of the House by Charlotte M Yonge, first published in 1873 is considered by many to be the Victorian best-selling novelist's masterpiece.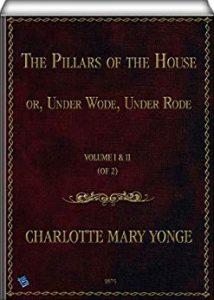 Pillars of the House – Charlotte M Yonge
I was brought up on the novels of Charlotte Yonge, notably The Young Stepmother, but it wasn't till I was grown up and with a young family, that I discovered her gripping story of the thirteen young Underwoods left to manage for themselves in the 1850s when the eldest, Felix, is only sixteen. He and his sister Wilmet are the 'pillars' of the title and their story ranges across several sequels as they struggle to bring up their crowd of younger siblings, including the twins who are born almost at the moment their consumptive father, a curate, dies.
It sounds grim, but Charlotte Yonge created wonderful characters and I love them – and still cry over one particular family tragedy, no matter how many times I've read the book. https://amzn.to/2RHOugn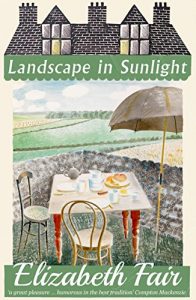 Landscape in Sunlight – Elizabeth Fair
Elizabeth Fair is a recent discovery. I first came across her in the blog, Furrowed Middlebrow, when Scott, the blogger, embarked on a publishing adventure and re-issued all six of Elizabeth Fair's gentle novels set between the 1940s and 1960. Similar to Angela Thirkell's Barsetshire novels and gently funny, but without the snobbery and acid wit. I love them all and it's difficult to choose a favourite, but Landscape in Sunlight gives the flavour of all  the books which usually contain: a small village, a gentry house, usually a doctor, a middle-aged bachelor, a vicar, a vicar's wife (usually a managing woman), a church fête and, of course, a pair of lovers. https://amzn.to/2AVcjqK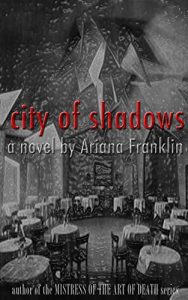 City of Shadows – Ariana Franklin
I read several historical novels by Diana Norman and particularly enjoyed her two books about Henry II, always a bit of a hero of mine. I wasn't so keen on her later books until I discovered she had reinvented herself as Ariana Franklin and was writing mediaeval novels about Adelia Aguilar, a 12th Century female forensic pathologist at a time when no such creature could possibly exist. A doctor had to be a man and bodies certainly could not be dissected to look for the cause of death, but Ariana Franklin manages to take this unlikely scenario and make it plausible and enjoyable.
However, City of Shadows, her standalone novel as Ariana Franklin, is my favourite and quite different. Set in Berlin just after the First World War, it's a marvellously evocative story of that city in the dark and dangerous throes of the rampant inflation of the 20s and the rise of Hitler. It also happens to be the best Anastasia mystery I've ever read – so plausible that I wish it had really happened that way! https://amzn.to/2ATg2VE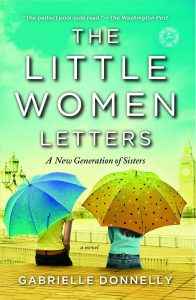 The Little Women Letters – Gabrielle Donnelly
Brought up on Victorian novels, of course I love Little Women and its sequels by Louisa Alcott and was thrilled, years ago, to visit Orchard House in Concord, the model for the March family home. I was delighted to spot a mention of The Little Women Letters somewhere, probably on Facebook, a few years ago.
Set in contemporary London it's the story of three sisters, Emma, Lulu and Sophie, whose American mother, Fee (short for Josephine) is the great-granddaughter of 'Grandma Jo' Bhaer, who turns out to have had a third child, a daughter, from whom the girls are descended.
It's a fascinating concept that has Jo fabled in the family as having been a writer, though as it turns out her stories were the penny-dreadfuls of the type written by Louisa Alcott. Little Women, it seems, was never written and Jo faded into obscurity.
This is a good contemporary family story, easily readable by someone who has never read Alcott's book, as it doesn't hammer home too obviously the three sisters' story arcs which do follow their famous originals to some extent. It's when one of the girls is rummaging in the attic and finds a cache of faded letters written by Grandma Jo, that the story comes alive. It adds depth if you've read and loved Little Women, but even without that, it's a very warm, satisfying book.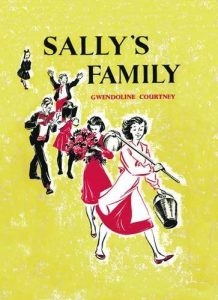 Sally's Family – Gwendoline Courtney
Published in 1946 this is another family story set in the immediate post-war atmosphere of 1945. Sally Hamilton has not seen her motherless younger siblings since she joined the A.T.S at the beginning of the war, and they – two boys and three girls – were all evacuated after the family home was bombed. Their father died in Burma but had saved the life of one of his comrades, Major Selwood, who feels obliged to help Sally collect up her family and make a home for them.
Written originally for teenagers, it nevertheless gives a very clear picture of the difficulties at that time: rationing, shortage of most household furnishings, shortage of housing, shortage, in fact, of everything – and the way Sally manages to turn five strangers into a family is warm and fascinating.
A relatively new find for me, but one that's already a favourite.
https://amzn.to/2Mpgik0 (Not available as an eBook)
Bio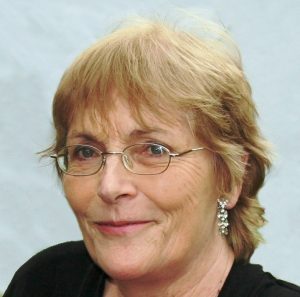 Nicola Slade was brought up in Poole, in Dorset, and since then has lived in various places including Cairo, in Egypt. Nicola's books are all set in Hampshire and her first published novel, Scuba Dancing, a romantic comedy, will be reissued in February 2019 by Endeavour Media. She then turned to crime with theCharlotte Richmond Mysteries, an historical series featuring Charlotte Richmond, a young Victorian widow, and The Harriet Quigley Mysteries, a contemporary mystery series which features recently-retired headmistress, Harriet Quigley and her clergyman cousin, Canon Sam Hathaway.  In 2017 The House at Ladywell, a contemporary romantic novel with historical echoes, was published by Crooked Cat books. It is currently a semi-finalist in the Chatelaine awards based in the USA.
The Convalescent Corpse, a cosy historical mystery set in 1918, was published, also by Crooked Cat Books, in November 2018 and is the first in a planned new series. Nicola wrote magazine short stories while her three children were growing up and at one time was an antiques dealer. She now lives with her husband near Winchester.
Links
Website: www.nicolaslade.com
Blog: www.nicolaslade.wordpress.com
Twitter: @nicolasladeuk
Facebook: www.facebook.com/nicolasladeuk
Pinterest: https://www.pinterest.co.uk/nicola8703
Amazon.co.uk: https://amzn.to/2SrDDUt
Amazon.com: https://amzn.to/2QRCEeh
Thanks Nicola for taking part. I've just finished reading The Convalescent Corpse and highly recommend it!