Not the title of the next Richard Curtis movie, but a post about our walk around the Isle of Wight. (Obviously I'd be more than happy to sell the film rights to Mr Curtis, although I suspect he'd want to change the leading characters from two middle-aged couples to four thirty-something singletons and a token American.)
According to the guide books, the The Isle of Wight coastal path can be completed in four days. We opted for six. We also booked overnight stays in B&Bs, rather than campsites, and a courier company to transport our bags. Yes, I know what you're thinking, hiking for lightweights.
We were on holiday! We wanted to enjoy our walk around the Island, take in the scenery, soak up the ambiance of quaint rural villages, stop and smell the wild roses in the hedgerows and marvel at the stunning coastal vistas. We'd done our research and our training, we knew we could manage the ten or twelve miles required each day without too much effort. The friends we were going with had also done their training, at a slightly faster pace than us. But hey, once we'd got over that first sixteen miles of Day One at record speed, we agreed we were very happy to keep their back views in our eyeline, and let them forge on ahead.
Day One was always going to be the killer – Cowes to Yarmouth, an area of the island none of us were familiar with, off the tourist trail, remote and wild, and with a distinct lack of suitable pitstops.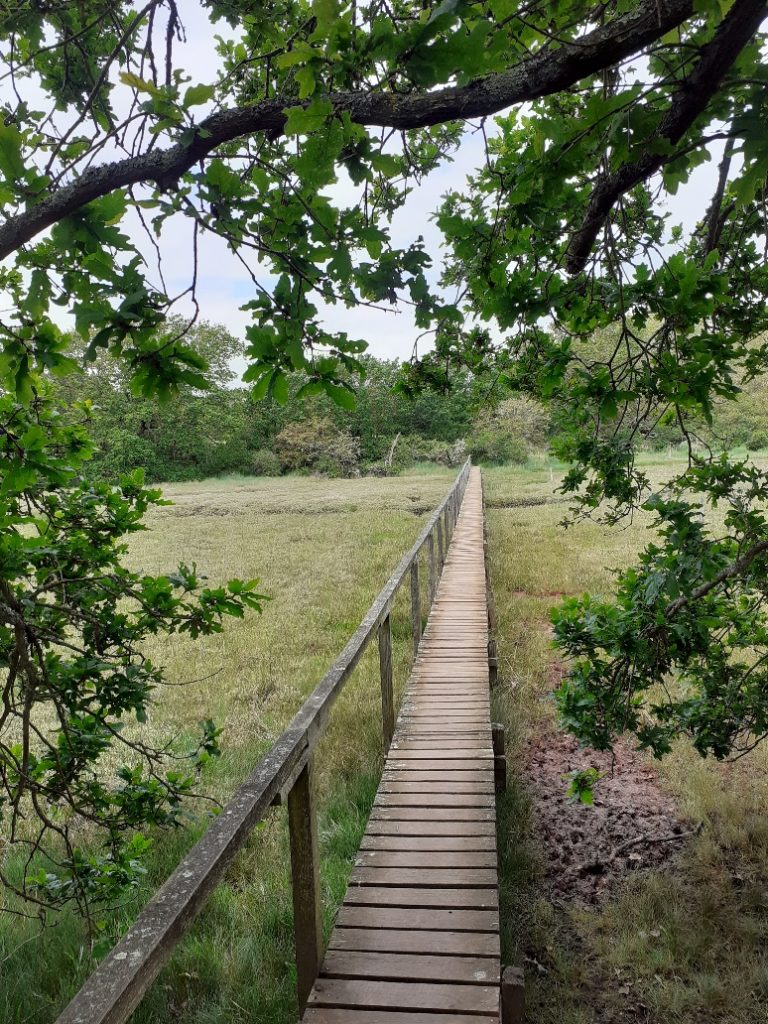 The salty sea marshes around Newtown Creek take the coastal path along boardwalks and a meandering, but very pretty, detour inland, but with both pubs on the route shut, our planned long lazy lunch subsequently involved a mad dash to Shalfleet village shop five minutes before closing time to grab the last three packets of sandwiches and an impromptu picnic in the local graveyard. A valuable lesson learned on Day One – when you see an eating opportunity, take it.
Day Two, Yarmouth to Freshwater – cross-country no more than four miles, in fact it was doing that walk last year with our friends which sparked the whole idea of the round the island hike. The coastal path takes ten but you get to experience the tourist trap of Alum Bay, before enjoying the natural wonders of the Needles and Tennyson Down. Valuable lesson learned on Day Two – when you see an eating opportunity at a tacky tourist attraction, avoid it.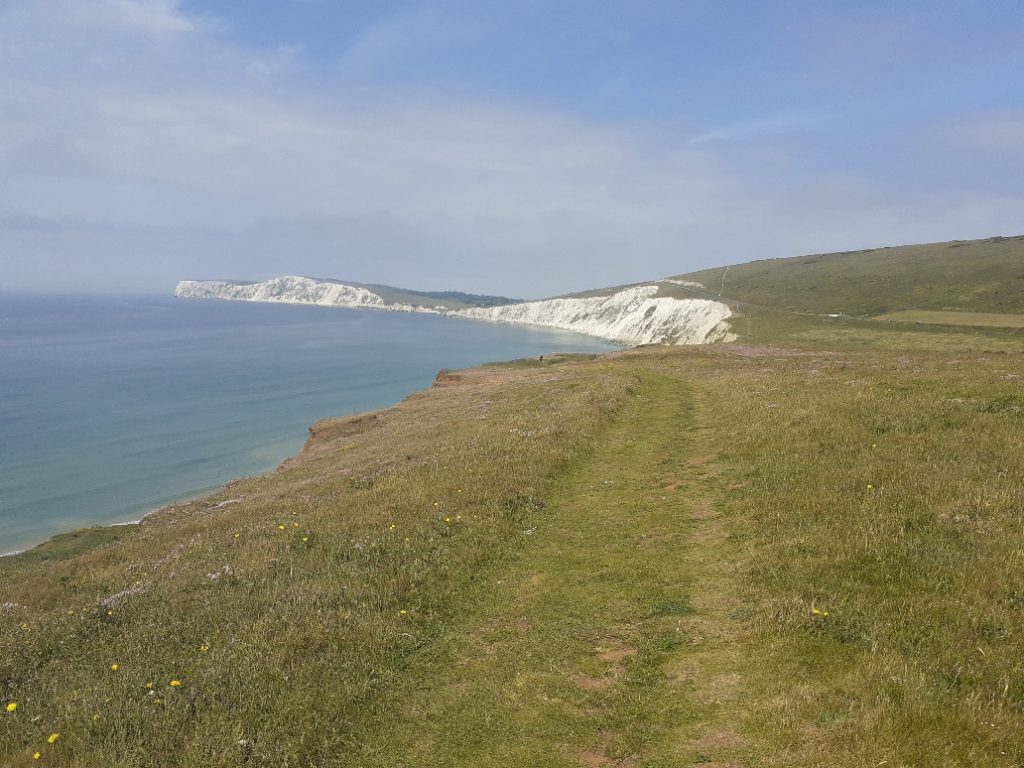 Day Three Freshwater to Chale, along the Island's spectacular southern coast and in my opinion the highlight of the trip. Never mind the sunburn, the blisters, the fact that the path hangs precariously close to the edge of the cliff and in some places disappears altogether (seven acres of the island are lost into the sea every year according to the landlady of our gorgeous B&B in Freshwater). With the stunning view across the English Channel to our right, and rolling fields to our left, we hardly saw another soul all day, although we did spot a peregrine falcon.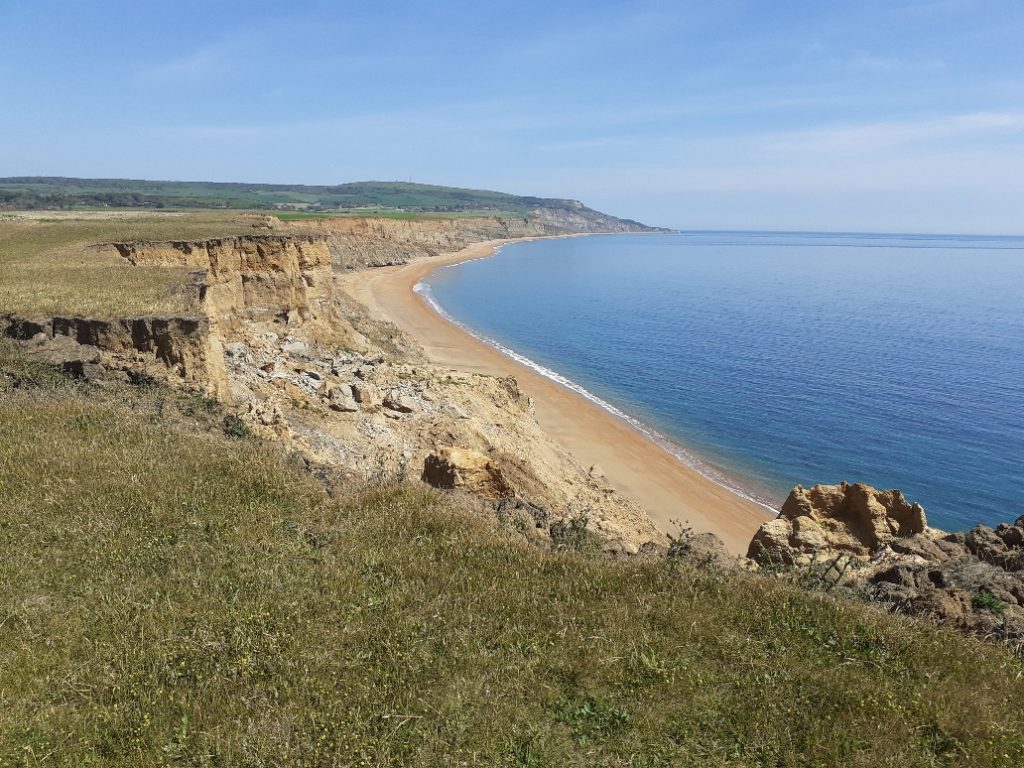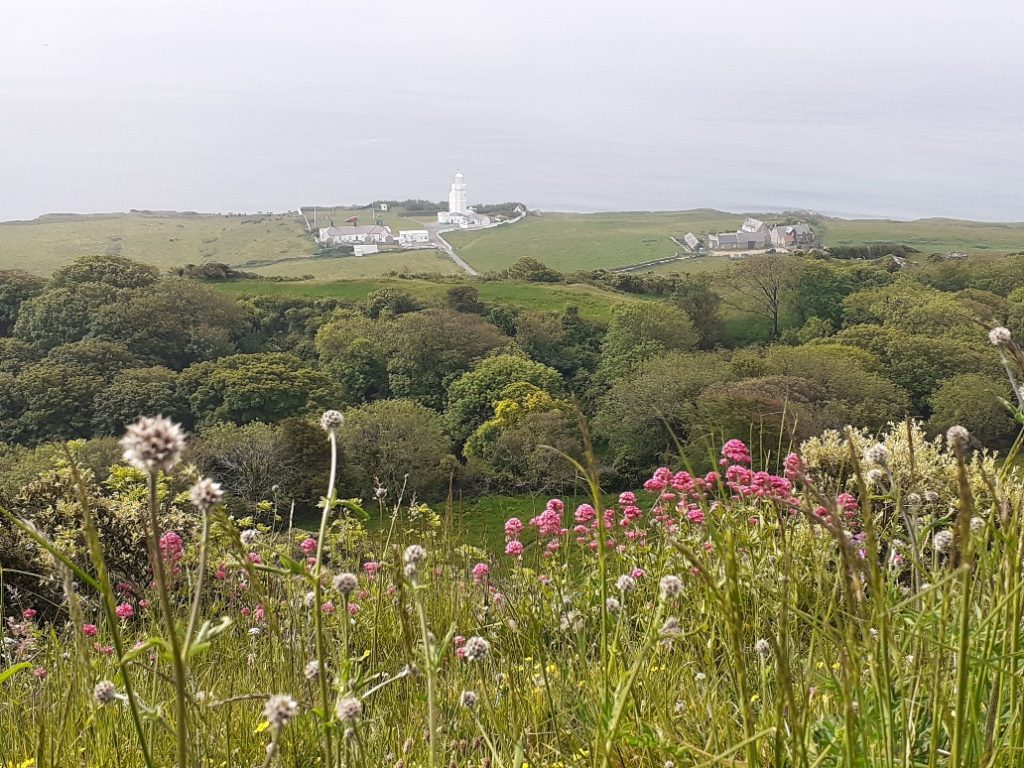 Day Four, Chale to Shanklin, another delightful trek, but by now we realised we should have done more gradient training. This walk also took us to Ventnor, which is where most of A Crisis of Clifftops is set. Ventnor, eerily shrouded in midday mist, was pretty much as I remembered it from our visit a couple of years ago (big sigh of relief no major edits of location descriptions required when I got home!)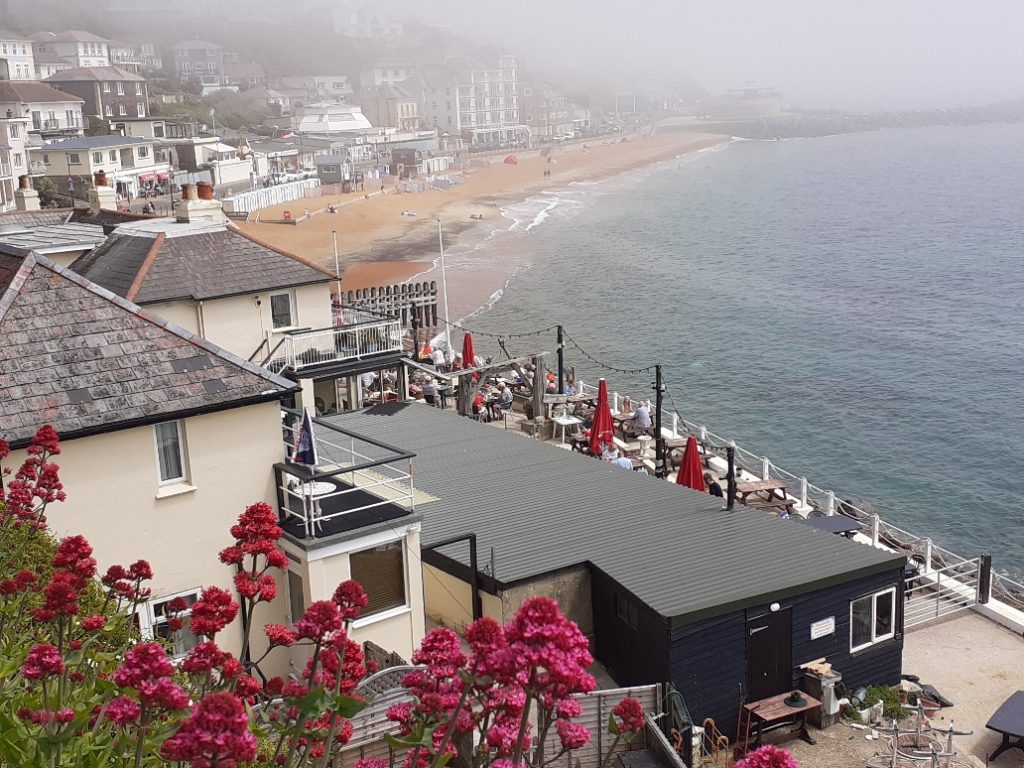 Day Five, Shanklin to Seaview, passed through the dubious delights of a rather rundown Sandown, not looking its best first thing in the morning (do any of us?) and onwards to Bembridge and beyond, the second longest leg of the trip.
Day Six was Seaview back to Cowes. After Ryde much of the path is inland to avoid trespassing through the grounds of Osborne House, but the route twists along country lanes through quaint villages, until the outskirts of East Cowes when it becomes disappointingly urban.
All the way around the island the coastal path is well sign-posted, and areas of danger – and there are many – fenced off and diversions in place. The courier service was excellent and our luggage was always picked up and delivered on time. Overnight accommodation was clean and comfortable, and we did spice things up a bit on occasions by tossing our room keys into a hat to see which couple won the ensuite with a bath…
You do always wonder when you holiday with other people, how you're going to get on. Apart from providing inspiration for a whole new series of crime novels, Murder on the Mudflats, Bludgeoned on the Boardwalk, Calamity on the Cliff Path, when our friends did pause for breath, they were great fun. Seriously, we're still talking!
I thought I knew the Isle of Wight pretty well, but walking the coastal path was a great way to see its diverse and contrasting flora, fauna and natural landscapes from a whole new perspective. Two weeks later the blisters have healed and we're already already planning our next trek!