It's news you've all been waiting for – Trouble on the Tide is now available to pre-order on Amazon Kindle. Official launch date is 27 June.
The third instalment in my Eliza Kane series features several new characters, including Eliza's dad Ian who makes a surprising return to the Isle of Wight after a thirty-year absence.
Trouble on the Tide was an absolute blast to write – and that's the joy of self-publishing. I can keep my books exactly as I want them. I've promoted this series as a "cosy mystery" because the market demands books fit into neat little pigeon holes, but as anyone who has read the first two books will know, there is so much more going on in Eliza Kane's life than simply solving mysteries.
I've just finished reading Nevil Shute's Requiem for a Wren as part of my research for my new writing project. First published in 1955 Nevil Shute's style is probably considered old-fashioned in today's commercially driven market, but the bottom line is he's a born story-teller – anyone who can keep me engrossed in a novel about ammunition supplies to machine gun boats has to have something special. Reading this book reinforced why it's so important for me to write an engaging and original story.
In Trouble on the Tide, I'm hoping I can capture readers' imaginations with a mystery involving a forged piece of artwork and a body in a boat. Add into the mix a dubious celebrity antiques expert, the return of an errant father and of course, Eliza's love-life and I've hopefully created another entertaining slice of Isle of Wight life.
I've woven topical threads into the story. The dead body belongs to a chef. I think we've all become more foodie and gastronomically aware in recent years and my chef is a prominent figure in Isle of Wight society, famous for championing local produce. Likewise those daytime TV experts are never off our on our screens, but are these experts as knowledgeable as they first seem? What really goes on when the cameras stops rolling (I'll admit I've used my very vivid imagination here!) Women's sports are also finally receiving far more media coverage and Eliza is determined to promote her new golfing for girls initiative. She also faces dilemmas in her relationship with single-parent Charlie Harper. She has some big decisions to make.
Family is a major theme running through this novel, especially the father-daughter relationship. Mr T has been a brilliant dad to our two daughters. They are both well-established in their careers, have their own homes and steady partners, but he still gets phone calls about flashing lights on car dashboards and household appliances that don't work, despite the fact both our girls live 200 miles away.
Eliza hasn't had a Mr T in her life, and I felt she deserved the chance to have one, or at least the chance to get to know her father better. However, I must stress Mr T is nothing like Ian Kane and the two men have absolutely nothing in common – apart from the fact that 1981 was a special year for them both. Why's that? I hear you ask. Well, 1981 was the year Mr T first met me, but if you want to find out why 1981 was so significant for Ian Kane, you'll have to buy the book!
Trouble on the Tide Blurb
When Isle of Wight restaurant owner Stewie Beech is found dead in a dinghy abandoned in picturesque Newtown Creek, the police conclude he died of a heart attack. But just days before his death Stewie discovered he'd been the victim of a serious case of art fraud, and his grieving widow Pilar is convinced the two events are related.
Forty years ago Stewie Beech and Eliza Kane's dad Ian were best friends. When Ian returns to the Island after a thirty-year absence to attend Stewie's funeral, he promises Pilar he will seek out the swindlers who conned her husband and bring them to justice.
A freak accident lands Ian on Eliza's doorstep and she is roped in to help out. Eliza isn't used to having family around and father and daughter soon clash, and not just with their conflicting theories about the mysterious circumstances leading up to Stewie's death. Eliza is committed to promoting her new golfing for girls initiative, and has a love-life to sort out. She wants to solve the case and send her dad swiftly back to his native Yorkshire. But with few clues to go, Ian Kane is in no rush to go home, and it soon becomes clear he harbours secrets of his own…
The Kindle version of Trouble on the Tide launches on 27 June. You can pre-order your copy here. https://www.amazon.co.uk/dp/B0C6B33VXT/ A paperback version will be available later in the summer.
Meanwhile, I'll leave you with a couple of pictures of the area around Newtown Creek where much of the book is set – these were taken on our hike around the Isle of Wight in 2021 when I first discovered this rather remote corner of the island, and the idea for this novel was born!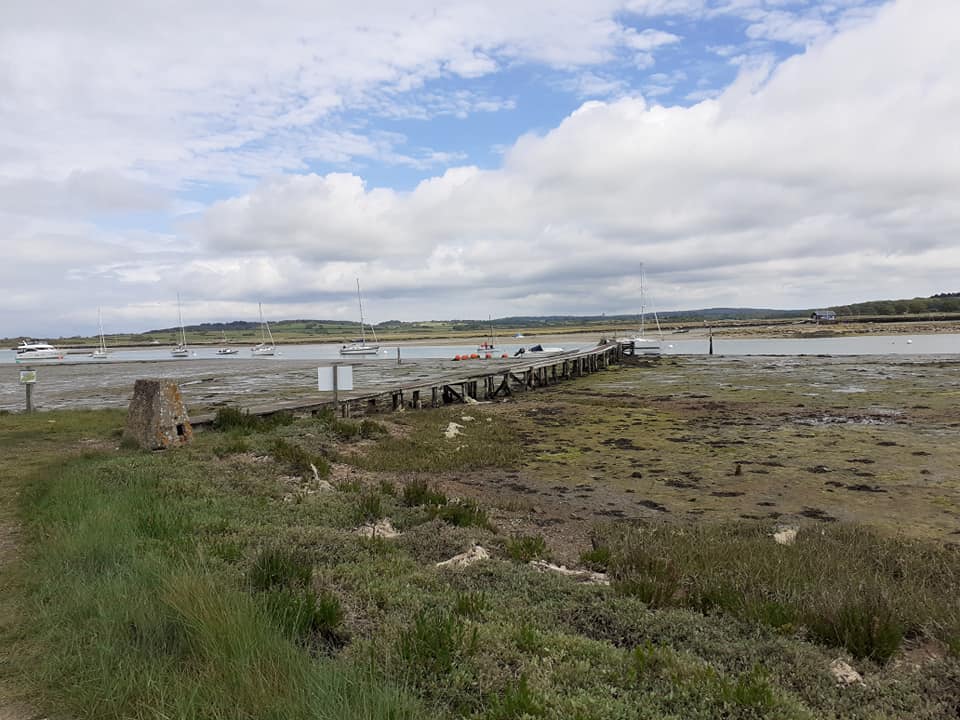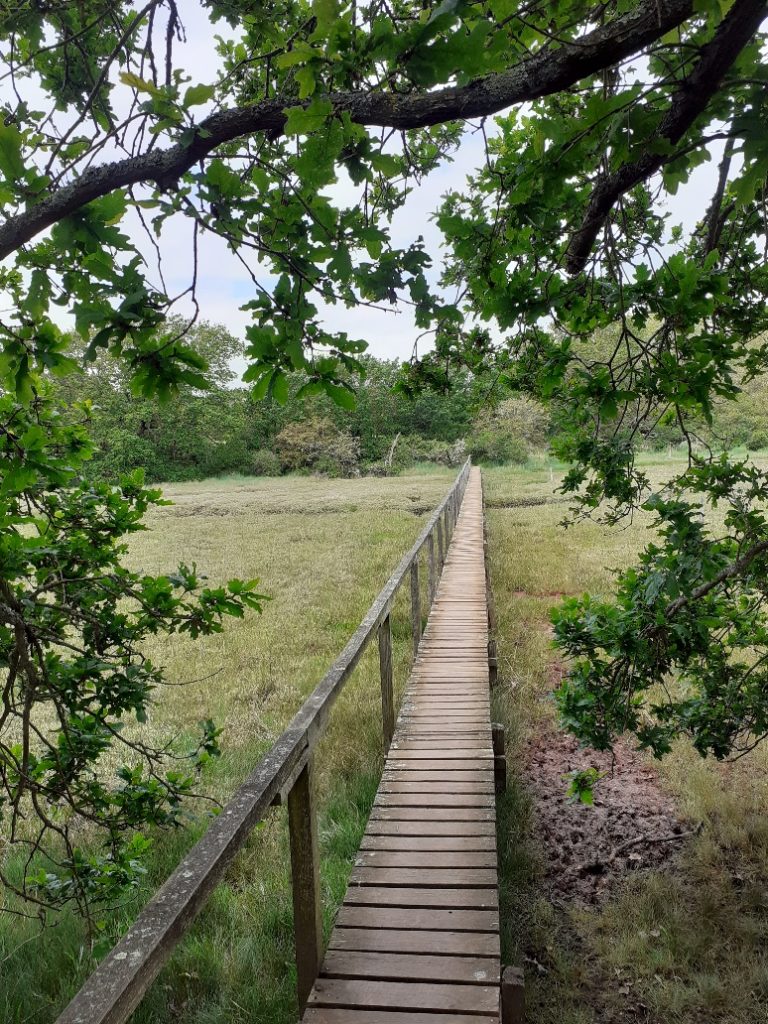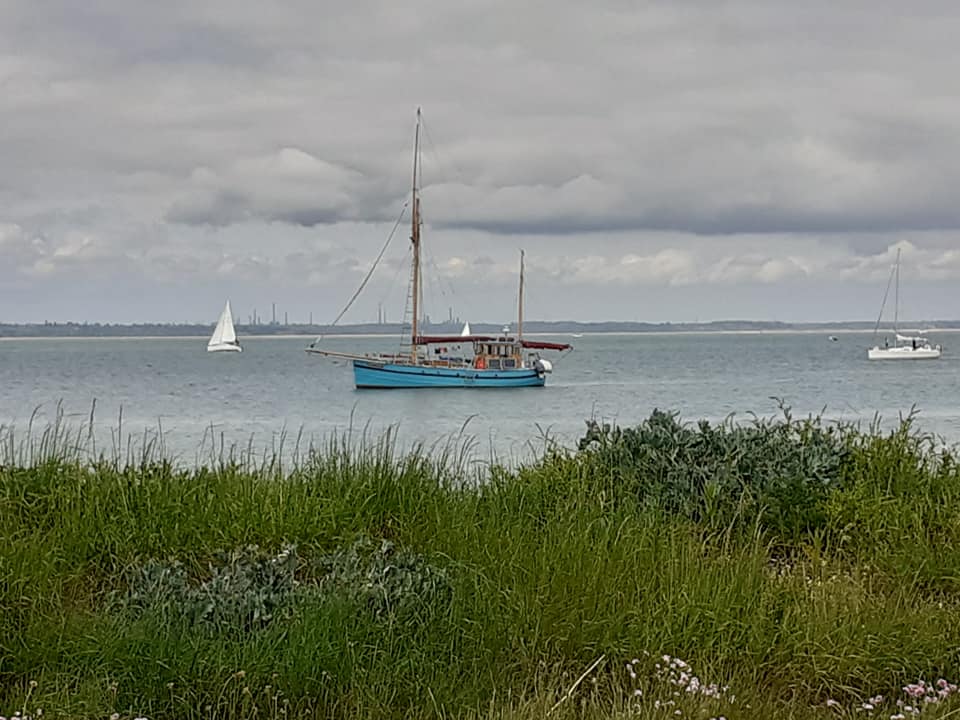 *******