I am delighted to welcome Lizzie Lamb onto my blog today. Lizzie a best-selling novelist, an active public speaker and a prolific supporter of her fellow writers. Over to Lizzie for a timeline of her favourite reads.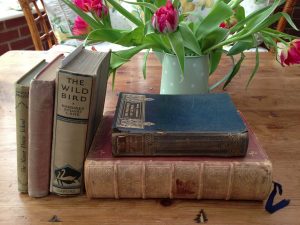 We all have books we simply can't bear to part with because, like the old friends they are, they've stuck with us through thick and thin. The oldest book in my collection is Clarendon's History of the Great Rebellion (1858) followed by The Wild Bird – Margaret Stuart Lane (1933) The Scarlet Pimpernel (1927), The Prisoner of Zenda and its sequel, Rupert of Henzua (1930).
My other 'keepers' are books which saw me through from girlhood to womanhood: Greengage Summer, I Capture The Castle, Bonjour Tristesse and The Dud Avocado.
With the fickleness of youth I abandoned these when I discovered Jilly Cooper's novels (1976). My love of rom com developing within their pages before coming full circle with Bridgit Jones in 1996. I can't let go of my penguin classics or historical romances by the likes of Georgette Heyer, Daphne Du Maurier, Jean Plaidy, Margaret Irwin and Anya Seaton. My particular favourite is Lady of Hay by Barbara Erskine.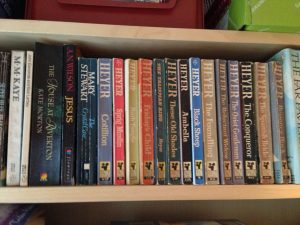 When I want to remind myself how to write humorously, I revisit Wodehouse, Terry Pratchet, Tom Sharpe and the anarchic Catch 22.
I also treasure my poetry books…John Donne, WB Yeats, The War Poets, TS Eliot, Dylan Thomas, Ted Hughes and Philip Larkin.
And in particular, The Mersey Sound – Adrien Henri, Roger McGough and Brian Patten which reminds me of when I was recovering after an appendectomy in Grantham General (1970). I was reading poems to the other patients in my ward and causing such hilarity that it was confiscated by the ward sister until I was discharged. Honestly…
I have two comfort reads Tristan and Isuelt by Rosemary Sutcliffe (so beautifully written) and Hons and Rebels by Jessica Mitford which is great fun. I want to spend the afternoon with the Mitford gels in the Hons Cupboard discussing topics considered unfit for young ladies. Want to come with me?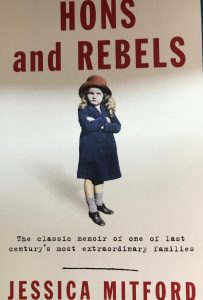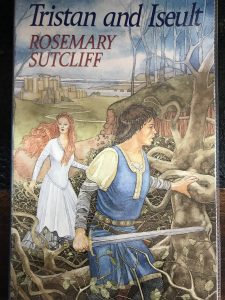 About Lizzie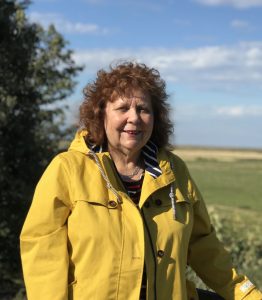 After teaching her 1000th pupil and working as a deputy head teacher in a large primary school, Lizzie decided to pursue her first love: writing. She joined the Romantic Novelists' Association's New Writers' Scheme, wrote Tall, Dark and Kilted (2012), quickly followed by Boot Camp Bride. She went on to publish Scotch on the Rocks, which achieved Best Seller status within two weeks of appearing on Amazon and her next novel, Girl in the Castle, reached #3 in the Amazon charts. Lizzie is a founder member of indie publishing group – New Romantics Press, and has co-hosted author events at Aspinall, St Pancras and Waterstones, Kensington, talking about the research which underpins her novels. Lizzie latest romance Take Me, I'm Yours is set in Wisconsin, a part of the USA which she adores. This novel also achieved BEST SELLER status >travel>USA. She has further Scottish-themed romances planned and has just returned from a tour of the Scottish Highlands researching men in kilts. What's not to like? As for the years she spent as a teacher, they haven't quite gone to waste. She is building a reputation as a go-to speaker on indie publishing, and how to plan, write, and publish a debut novel. Lizzie lives in Leicestershire (UK) with her husband, David.
She loves to hear from readers, so do get in touch . . .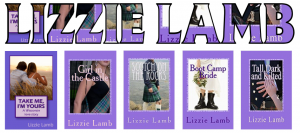 Lizzie's Links
https://www.amazon.com/author/lizzielamb
www.facebook.com/LizzieLambwriter 
website: www.lizzielamb.co.uk
Newsletter – http://tinyurl.com/ELNL-2016
Linked in: uk.linkedin.com/pub/lizzie-lamb/18/194/202/
Goodreads http://tinyurl.com/cbla48d
Pinterest: http://www.pinterest.com/lizzielamb/
https://twitter.com/lizzie_lamb
Many thanks to Lizzie for taking part.