Location, location, location.  Despite having done a fair bit of travelling in my time, I set my novels in my native Hampshire.  Today  I am joined by fellow Crooked Cat author Angela Wren who talks about why she chose a French setting for the location of her novels.
Hi Rosie, and thanks very much for inviting me onto your blog.
I've been spending time in France since I was a teenager and I still find the country fascinating and I never seem to stop learning new things about the history and the culture.  But there's also the geography too.
Today, I want to take you and your readers  to one of my favourite places, the Cévennes, an upland area in south central France.  Look at a modern map of France and you'll see the Cévennes is now defined as a national park that covers parts of 4 départements – Ardèche, Gard, Hérault, and Lozère.  It spreads south and west below the route nationale RN88, a major thoroughfare that crosses this upland area from Lyon heading southwest.  It's an area I've visited many times and there's a wild ruggedness and a silence there I can't seem to find anywhere else.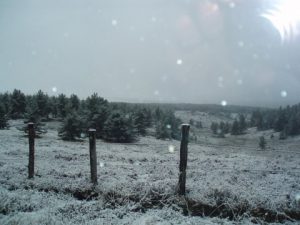 When I visit, I like to be in a tiny village that sits just north of the national park in col de la Pierre Plantée (planted rock).  So called because of that vast grey rocks strewn across the open pasture areas as though they are growing out of the landscape.  Apparently they warrant the technical term of 'glacial erratics', having been deposited millions of year ago as the ice sheets retreated.
At an altitude of 1263 metres (that's 4,144 feet above sea-level), it's a bit like living close to the summit of Ben Nevis (4,413 ft), but with better weather in summer.  Come here in June and the pastures are pear-green, the pines are inky-green in colour with the pale yellow pollen from the cones drifting on the gentle breeze.  The leaves of the chestnut trees are the same lush shade of green as shamrock, and, amidst the green expanse sit clumps of sunshine yellow genêt (botanical name Genista) almost competing for a right to grow amongst the planted rocks.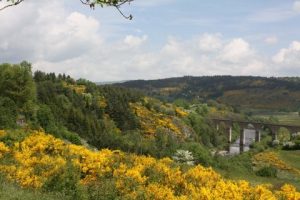 Having said that, the weather can be extreme and it can change in a moment.  When I was there a couple of years ago, it last snowed on May 31st.  In July and August the weather can be hot and dry and the grass turns a straw yellow under the baking sun.  In September the balmy breeze returns but so can the rain, bringing with it vast storms and floods.  I remember watching the sky in 1992 as a storm devastated the whole area and forced a national emergency to be declared.  That year it was rain, but sometimes it can be snow if the wind is coming from the right direction – as it was overnight on September 27th in 2007.  I woke up the next morning to a silent and white mountainous landscape and, after taking in the view, my thoughts turned to murder and how easy it would be to use snow in a place like the Cévennes to cover someone's misdeeds.
From that single thought my stories for my hero, Jacques Forêt, were born and the location?  Well, that was a given.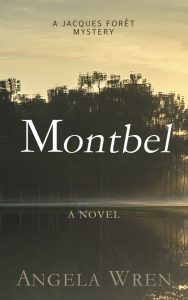 Blurb
A clear-cut case?
A re-examination of a closed police case brings investigator, Jacques Forêt, up against an old adversary. After the murder of a key witness, Jacques finds himself, and his team, being pursued.
When a vital piece of evidence throws a completely different light on Jacques' case, his adversary becomes more aggressive, and Investigating Magistrate Pelletier threatens to sequester all of Jacques papers and shut down the investigation.
Can Jacques find all the answers before Pelletier steps in?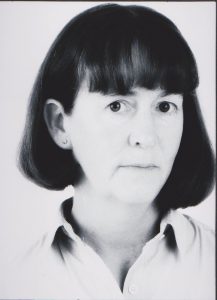 Bio
Having followed a career in Project and Business Change Management, I now work as an Actor and Director at a local theatre.  I've been writing, in a serious way, since 2010.  My work in project management has always involved drafting, so writing, in its various forms, has been a significant feature throughout my adult life.
I particularly enjoy the challenge of plotting and planning different genres of work.  My short stories vary between contemporary romance, memoir, mystery and historical.  I also write comic flash-fiction and have drafted two one-act plays that have been recorded for local radio.  The majority of my stories are set in France where I like to spend as much time as possible each year.
Links
Amazon : AngelaWren
Website : www.angelawren.co.uk
Blog : www.jamesetmoi.blogspot.com
Facebook : Angela Wren
Goodreads : Angela Wren
Contact an author : Angela Wren
Angela's Books
Merle
Jacques Forêt Mystery #02
Thank you Angela for giving us an insight into the corner of France that turned your mind to murder!