Sometimes inspiration strikes in the most unlikeliest of places.  If you've read the blurb for The Theatre of Dreams you'll know the story focuses on an unlikely alliance formed between Tara, an out of work actress, and a rather devious old lady, Kitty, who recruits Tara to run her former dance academy in the fictional south coast resort of Hookes Bay.
Characters pop into my head very easily, what I sometimes lack is a cohesive plot. Once I had come up with a vision of Kitty, I knew I had to give her a purpose. And for this, I have to give credit to the small coastal town of Lee-on-Solent in my native Hampshire. Lee isn't actually a town – according to Wikipedia it's a sub-district in the Borough of Gosport, 8 km west of Portsmouth.  This part of the south coast is synonymous with dockyards, submarine stations, armouries, and air bases. It's not a holiday destination.  I'd been living away from the UK for some time, and on a visit home, for nostalgia's sake,  we'd gone for a walk along the seafront at Lee.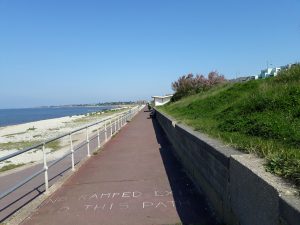 Lee is one of those places that unless you live nearby, you wouldn't think to go there – a few cafes, a fairly nondescript high street and a pebbly beach.
At least that's what I thought, until a notice-board depicting Lee's historic past caught my eye….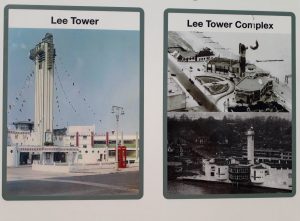 Who knew that back in the 1930's Lee used to be a bustling resort with a 37 m observational tower and a multi-purpose entertainment complex? I could recall visiting Lee as a child, to swim in the freezing cold water of the local lido, but by then all remnants of the Lee Tower with its ballroom, restaurant and cinema had long gone. How could they have let this happen? I thought. Where once there was something quite unique there is now just a promenade and a car-park. Why wasn't it preserved?
My imagination had been well and truly captured. I came home and conducted some quick research, uncovering a countrywide trail of art deco seaside pavilions, lost from the landscape. I read about the De La Warr pavilion further along the coast at Bexhill-on-Sea in Sussex – restored into a contemporary arts centre after a public campaign. Why hadn't that happened at Lee-on-Solent, I wondered.  Where was the vision, imagination, determination, ingenuity, oh, and the money of course, to conserve their slice of history?
They always tell you to write about what you know. My daughter trained as a dancer. My late grandmother was a would-be musical hall star. Two characters from different generations with a shared love of performing.  And so the idea for The Theatre of Dreams was born. My leading ladies didn't need an observational tower and a huge entertainment complex to bring them together, just something small and meaningful – a run-down seaside pavilion that was once a flourishing family theatre.
The resort of Hookes Bay is a figment of my imagination. It overlooks the Isle of Wight, has a scruffy shingle beach and was once home to a former military base – it could be anywhere along the south coast.
I hope the residents of Lee-on-Solent don't think I have done their little town an injustice by taking inspiration from the long-forgotten glory days of their seafront. It's a great place to go for a stroll, with a wonderful car-park.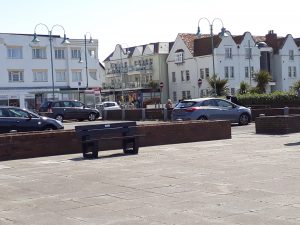 And postcard of the orignal Lee Tower Complex….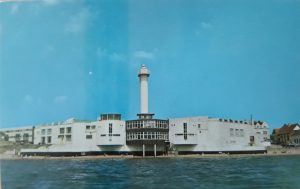 The Theatre of Dreams will be published on 1 August 2018 and is available to pre-order on Amazon now.