While I recover with my feet up after my epic hike around the Isle of Wight, I'm delighted to hand over this week's post to author Sharon Booth. Continuing our locations theme, Sharon talks about a beautiful part of North Yorkshire which is very close to her heart.
The Whole of the Moon, my latest release, is the fourth and final book in the Kearton Bay series. Kearton Bay is a fictional village on the North Yorkshire coast, but it's strongly inspired by the real-life village of Robin Hood's Bay, just a few miles south of Whitby.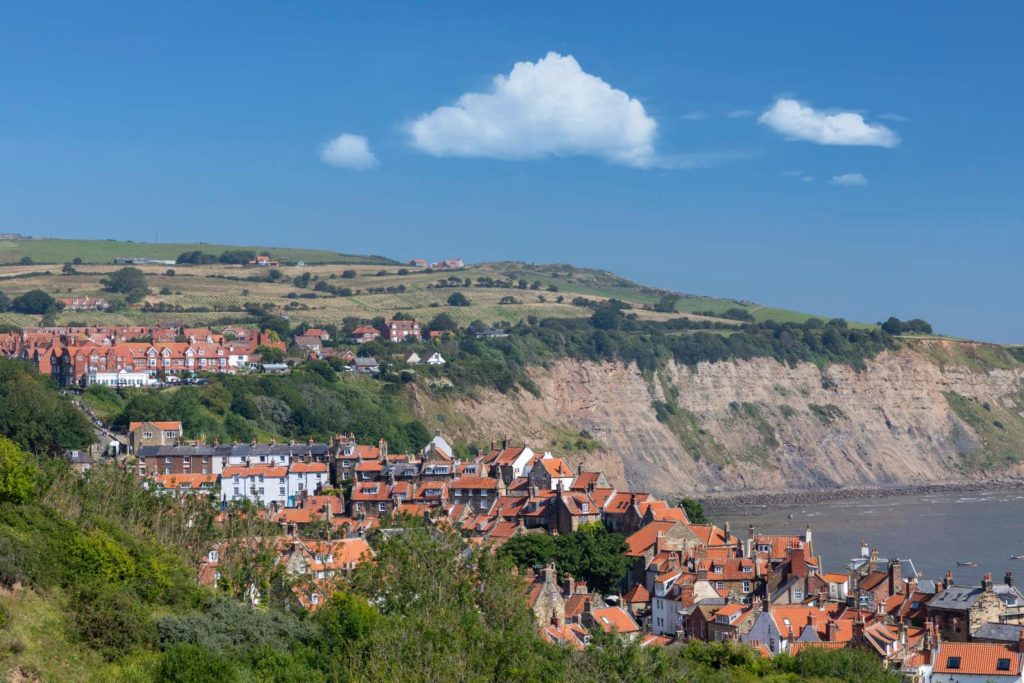 Robin Hood's Bay was somewhere I discovered when I was fourteen and staying in a holiday cottage near Whitby with my parents and siblings. I was enchanted by this pretty village, with its twisty cobbled streets, narrow passageways, chocolate box cottages and gurgling beck.
The stone or whitewashed walls and red roofs of the buildings are a stunning sight to behold as you gaze down the steep hill which leads to the seafront. It's a beautiful walk down to the beach — not so great when you're struggling back up, though!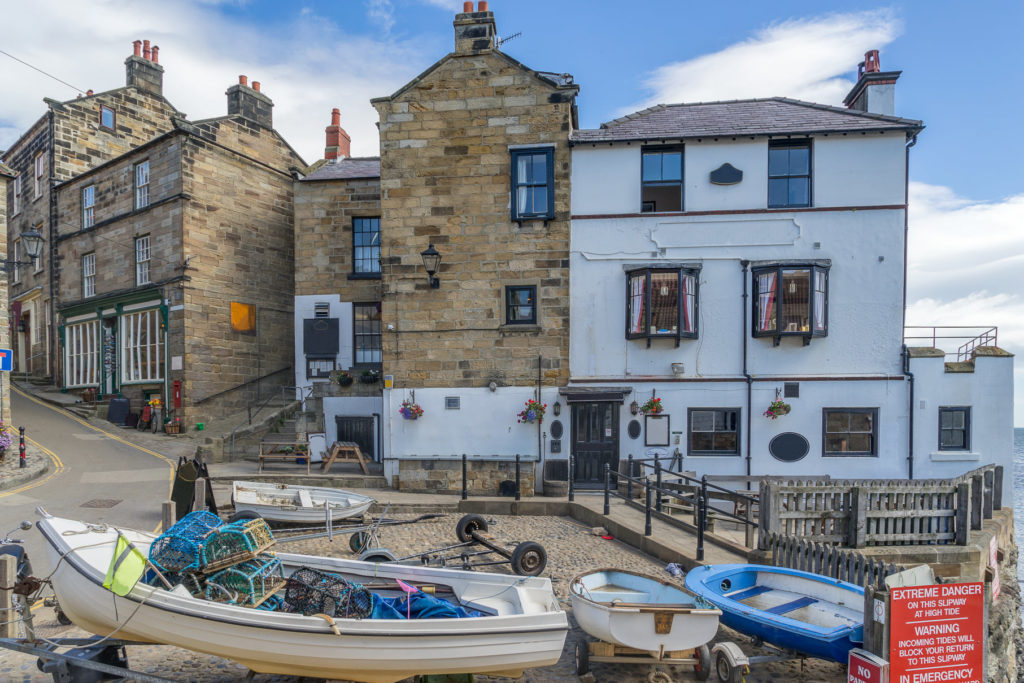 Robin Hood's Bay has a long history of smuggling, and it's rumoured that a bale of silk could get from the beach to the top of the hill without ever seeing daylight, thanks to the secret passages and tunnels beneath the houses. It was bound to stir my imagination.
In the third book in the series, Once Upon a Long Ago, I used those passages and tunnels as part of the story. It was set around the beautiful Elizabethan Kearton Hall, but I'll admit that the real-life inspiration for that house comes from Burton Agnes Hall, which is actually near Driffield, in the East Riding of Yorkshire. It's one of my favourite stately homes, and I visited it lots of times to get a good idea of the layout and figure out where the entrance to the secret passage would be.
Kearton Bay is one of several fictional towns and villages I've created in that part of North Yorkshire, which make up my book world. Places like the market town of Helmston (which is based on Helmsley), Moreton Cross, Bramblewick and Farthingdale are also mentioned in the books, and they've featured in other series, too. In Saving Mr Scrooge, one of my Moorland Heroes books, for example, the heroine lives in Moreton Cross and the hero in Farthingdale. Bramblewick spawned an entire series of its own.
I refer regularly to Whitby and York, as I feel that anchors my fictional settings in the real world, and makes it easier for readers to imagine where my characters live and what sort of landscape they work in.
The heroine of The Whole of the Moon, Rhiannon, lives in The Hare and Moon pub, which stands on the seafront of Kearton Bay. It's an old, whitewashed inn, with a red roof and stunning views over the North Sea. In real life, there's a pub which stands on the very same spot, though it's not as old as The Hare and Moon, as it started life in 1828 as The New Inn. Today it's called The Bay Hotel and marks the end point of Alfred Wainwright's Coast to Coast Walk from St Bees in Cumbria to Robin Hood's Bay.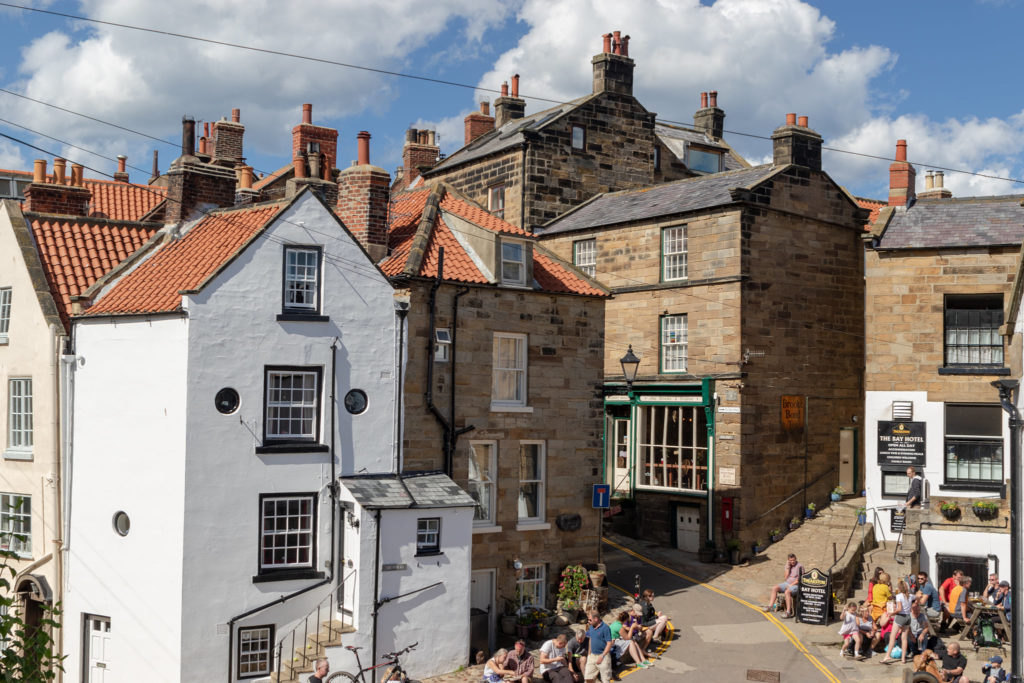 I love it when readers recognise Robin Hood's Bay from the descriptions in my books. I don't work for the tourist board, and I'm not on commission, I swear, but I would recommend a trip to this picturesque spot on the North Yorkshire coast. It's absolutely beautiful and I love it — even more so now I picture it as the home of my characters. When I visit these days, I can't help but look out for a glimpse of Rhiannon, Rose, Eliza or Lexi. We can but dream!
Author Bio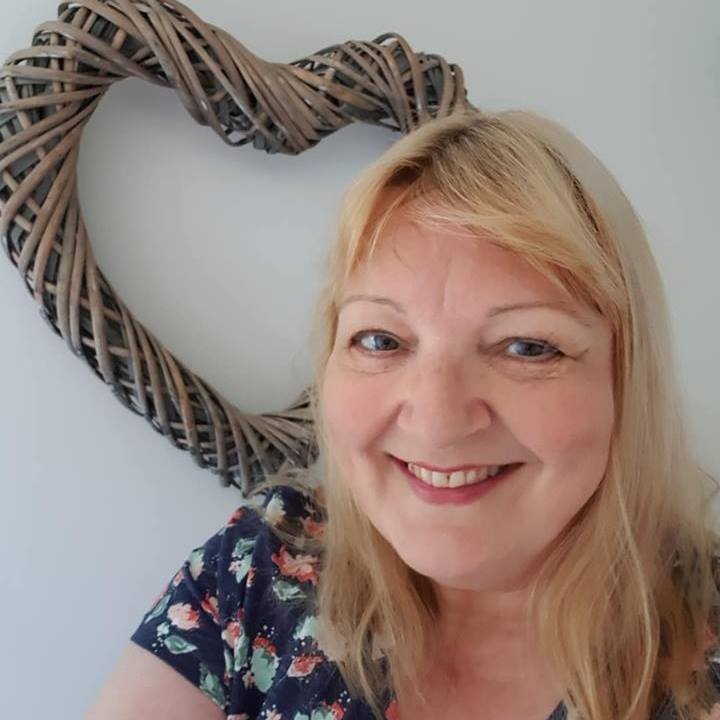 Sharon Booth writes uplifting fiction with a touch of magic. Happy endings are guaranteed for her main characters, though she likes to make them work for it.
Sharon is a member of the Society of Authors, the Romantic Novelists' Association, and an Authorpreneur member of the Alliance of Independent Authors.
She loves Doctor Who, Cary Grant movies, hares, and horses – not necessarily in that order.
Sharon grew up in the East Riding of Yorkshire, and the Yorkshire coast and countryside feature strongly in her novels.
Her stories are set in pretty villages and quirky market towns, by the sea or in the countryside, and feature lots of humour, romance, and friendship. If you love gorgeous, kind heroes, and heroines who have far more important things on their minds than buying shoes, you'll love her books.

For all Sharon's latest news sign up to her newsletter. All subscribers get a free and exclusive novella, and there's a chance to win a prize every month!
Sharon now has a readers' group on Facebook where readers of her books are very welcome to chat to her and to each other.
You can visit her website for information, or find her on Instagram, Twitter, and Facebook, as well as other social media sites. For all links visit:
https://linktr.ee/sharonboothwriter
You can buy The Whole of the Moon at https://getbook.at/kb4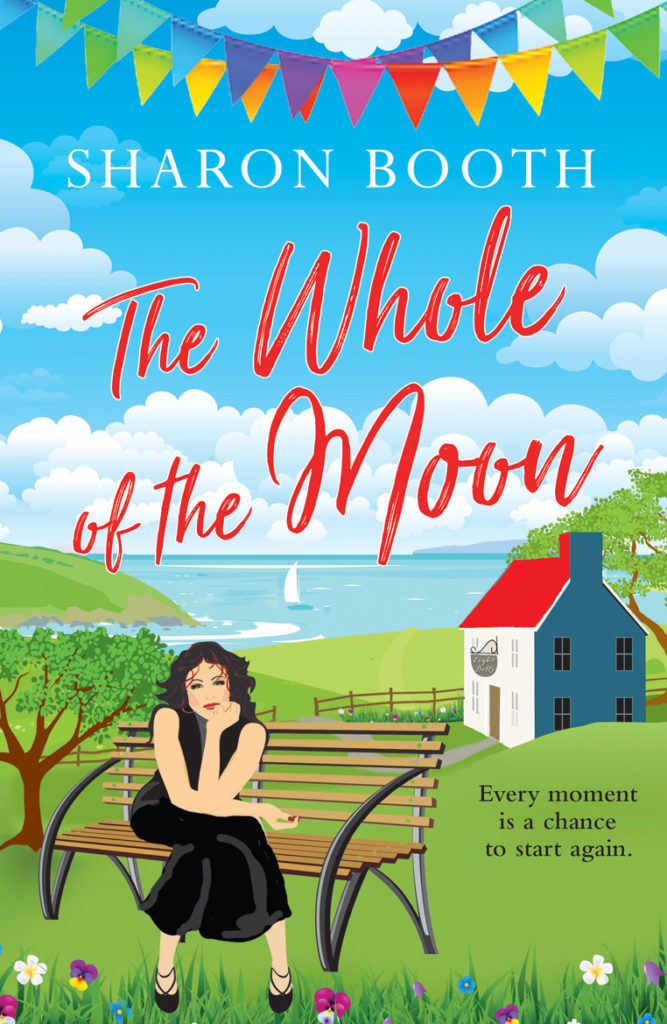 Many thanks to Sharon for taking part. I was lucky enough to have the opportunity to visit Robin's Hoods Bay and Whitby for the first time a couple of years ago and it really is a spectacular part of the country. Sharon's post has definitely whetted my appetite for a return visit.