Today I am joined by fellow Crooked Cat Author Sue Barnard to talk about her favourite 'comfort reads' – and it's an eclectic selection!  If like me you are a bit of a Wuthering Heights fan ( confession time – I prefer the Kate Bush song to the novel), you might be interested in Sue's latest book Heathcliff, a Wuthering Heights spin-off,  published on 30 July 2018 – Emily Brontë's 200th birthday (and Kate's 60th). Take it away Sue!
That Devil Called Love, by Lynda Chater
I first read this book when I was in my mid-forties and was starting to feel depressed about getting old – and I can truthfully say that it changed my entire outlook on life. It's a modern re-working of the Faust legend, told with great perception and humour, in which the heroine finds out the hard way that youth, beauty, wealth and fame don't necessarily hold the key to lasting happiness. It's a valuable lesson to everyone, and such an ingenious concept that I've often wished I'd thought of the idea myself.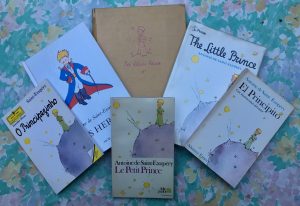 The Little Prince (Le Petit Prince), by Antoine de Saint-Exupéry
This is an unusual choice, as one does not normally fall in love with one's A-Level set books. But I studied this for A-Level French and have adored it ever since.  Although ostensibly a children's book, it can be read on any number of levels, and contains a very powerful message: "On ne voit bien qu'avec le cœur. L'essentiel est invisible pour les yeux." (It is only with the heart that one can see rightly; what is essential is invisible to the eye.) I love this book so much that I have multiple copies in different languages. That's how crazy I am…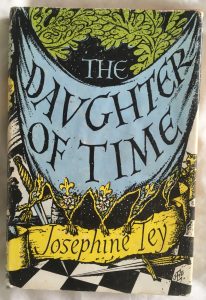 The Daughter of Time, by Josephine Tey
This fictional detective story considers a real-life cold case: Who might have killed the Princes in the Tower? A thorough and well-constructed investigation which comes to a surprising but very plausible conclusion, and it certainly changed my original perception of King Richard III.
The Richard Stilgoe Letters, by Richard Stilgoe
Whenever I need a fix of surreal humour, I reach for this book: a collection of short pieces written about characters who are all anagrams of the author's own name, and all the names are astonishingly appropriate for the people concerned.  For example, there is a charismatic weatherman called OSRIC THIRDGALE, a fantasy writer called ERIC D GHOSTLAIR (whose epic trilogy GHIRIDOR CASTLE is a cult classic), and the sometime president of France, Germany and Ireland: GISCARD O'HITLER. The writing is pure genius, and the book definitely deserves a wider audience.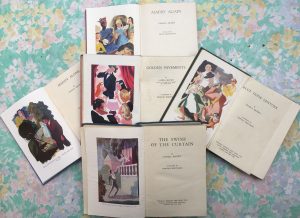 The Blue Door Theatre Series, by Pamela Brown
I was first introduced to these lovely stories when I was in my final year at primary school. They tell of a group of young people who form their own theatre company, and they first kindled my longstanding love of the theatre. There are five books in the series: The Swish of the Curtain (1941), Maddy Alone (1945), Golden Pavements (1947), Blue Door Venture (1949) and Maddy Again (1956), all set in a fictional town in southern England. They seem a little dated now, but that is part of their charm.  It's sometimes good to escape from twenty-first-century traumas and revisit an era when things were a little more innocent and a lot less complicated.
About Sue by Sue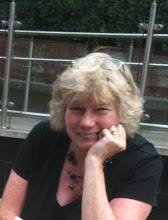 Sue Barnard is a British novelist, editor and award-winning poet whose family background is far stranger than any work of fiction. She would write a book about it if she thought anybody would believe her. Sue was born in North Wales but has spent most of her life in and around Manchester. She speaks French like a Belgian, German like a schoolgirl, and Italian and Portuguese like an Englishwoman abroad.
Her mind is so warped that she has appeared on BBC TV's Only Connect quiz show, and she has also compiled questions for BBC Radio 4's fiendishly difficult Round Britain Quiz. This once caused one of her sons to describe her as "professionally weird." The label has stuck.
Sue joined the editorial team of Crooked Cat Publishing in 2013. Her first novel, The Ghostly Father (a new take on the traditional story of Romeo & Juliet) was officially released on St Valentine's Day 2014.  Since then she has produced four more novels: Nice Girls Don't (2014), The Unkindest Cut of All (2015), Never on Saturday (2017) and Heathcliff (a Wuthering Heights spin-off story about Heathcliff's missing years, published on 30 July 2018, to coincide with the bicentenary of the birth of Emily Brontë).
Sue now lives in Cheshire with her extremely patient husband and a large collection of unfinished scribblings.  You can find her on Facebook, Twitter (@AuthorSusanB), Amazon, or follow her blog here.
Thanks to Sue for taking part – anyone else have fond memories of school text books?