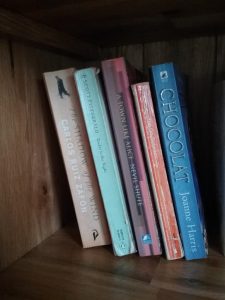 The mythical 'they' always say to be a great writer you have to be a great reader. I devoured books from a very early age. Books provide an escape route – I used to immerse myself in Kirrin Island and Narnia, just like children today escape to Hogwarts. Returning to a familiar place is a source of great comfort, and like food, I have my favourite 'comfort reads', novels I can escape to in times of need.
It was very hard narrowing my choices down to five, but to me the following books represent the literary equivalent of peanut butter on toast or a mug hot chocolate with whipped cream – comfort reading. This doesn't mean that they feature happy ever afters with cosy characters (far from it), it just means that when I pick up these books I know I'm in for a treat.
Shadow of the Wind
by Carlos Ruiz Zafon –  the perfect combination of history, romance, mystery and magic, set in a great city, Barcelona. I discover something new amongst the pages everytime I read it. Probably my all time favourite novel.
Tender is the Night
by F Scott Fitzgerald. As much as I love The Great Gatsby, I prefer Tender is the Night, perhaps because it's just that little bit 'meatier', (or maybe because I share the same name as one of the central characters??). The themes of vulnerability and co-dependency are explored in an opulent and seemingly perfect setting. A book that epitomises a flawed romance in a decadent bygone era.
A Town Like Alice
– Neville Shute's classic might be considered a little old-fashioned in today's market but it's an inspiring mix of historical fact and fiction with a strong, gutsy heroine at its core. 
The Go-Between
by LP Hartley.  A great lesson in how to build up tension alongside evocative imagery. The perfect portrait of a lost innocence and the 1971 film version is pretty good too.
Chocolat by Joanne Harris. Basically, I love anything by Joanne Harris, but Chocolat was the first novel of hers I read so for sentimental reasons it would have to be my favourite. I listened to a speech by Joanne Harris at the Winchester Writer's Festival a few years back and she was inspirational. She was told Chocolat would never sell, but she had faith in her story and stuck to her guns. 
I've made multiple house-moves in recent years and books have had to be sacrificed and taken to the charity shop, but these five treasured friends have stood the test of time. I wouldn't be without them.