I've learned over the last few months that writing a book is the easy bit.  Launching, marketing, that's the hard, stressful stuff and I'll admit I am feeling slightly out of my depth.  When I first started 'writing', I wrote travel blogs. So in an attempt to get my mojo back, here's a little piece about our recent Baltic cruise.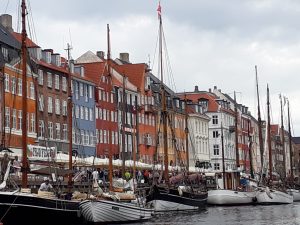 Although travel is my thing, cruising isn't. I like to think I'm a feisty, independent explorer, but sometimes a bargain is too good to miss and cruising is a good way to see a lot of places in a short space of time. Our first port of call was Copenhagen, a beautiful city we'd always intended to visit while we were living nearby in the Netherlands but never quite got round to.
After Denmark, it was onwards to Finland – fulfilling a childhood dream to see the home of the Moomins. I learned to read on the Tove Jansson books so discovering the existence of Moomin Cafés was a bit of a personal treat. It was very bleak in Helsinki the day we visited and very easy to see why Moomintroll and his family hibernated every winter.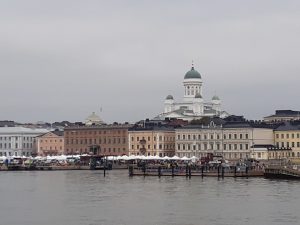 After Helsinki the weather picked up again and we travelled on to the highlight of the cruise – St Petersburg. St Petersburg in Russia has long been on my list of must-see destinations.  Home of the Russian royals, my imagination was captured as a teenager by the story of the Romanovs and their tragic demise. And now that I've visited just one of their many palaces, it's really not that hard to see why the last Tzar and his family lost their lives. I've read a little bit about the Russian revolution, but nothing prepared me for the complete OTT opulence of The Winter Palace in St Petersburg. If you like your gold bling, and over 22 km of corridors to keep all your knick-knacks in, then this is the palace for you. No wonder the starving peasants were a bit upset by the extravagance.  The Russian Tzars like to collect things, from ancient Egyptian artefacts to Rembrandt paintings.  It's all a bit much to take in, to be honest, and someone has now worked out that if you spent just sixty seconds looking at every exhibit in the Hermitage museum, you'd need eight years to complete your tour. We had just over two hours on our whistle stop expedition and it was exhausting.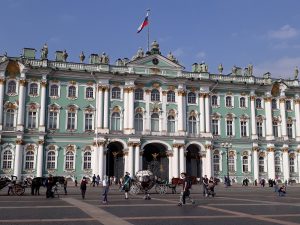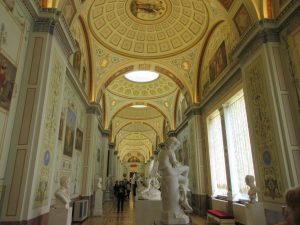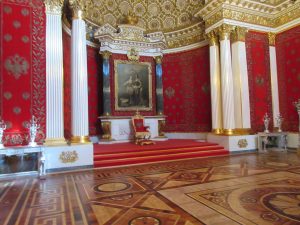 From Russia to Estonia and Tallin – a charming medieval town of cobbled streets, castles and gabled houses.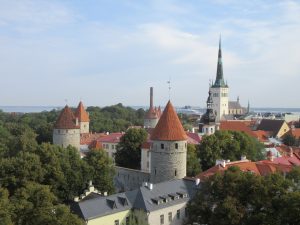 And after Tallin, Riga in Latvia, an unexpected gem. Riga was a revelation with its art nouveau architecture and massive indoor food market housed in former Zeppelin sheds.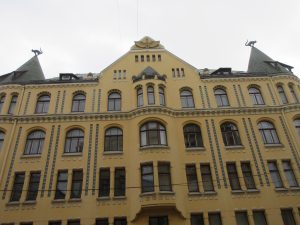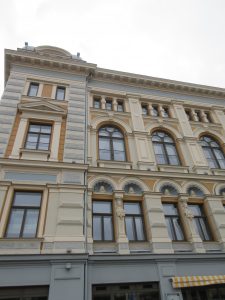 After Riga it was onwards to Kiel in Germany, a stopping off point for shore excursions to Hamburg. Kiel itself was wet and uninspiring and as we didn't want to go to Hamburg we took a local bus to view the workings of the Kiel canal – the world's first man-made waterway which connects to the Baltic to the North Sea. If you're into industrial-sized lock gates you'd be in industrial-sized-lock gate heaven in Kiel. If you're not, enough said.
Our final stop was tiny port of Skagen at the very northern tip of Denmark. It's the Danish equivalent of  John O'Groats and the country's top tourist attraction. Here you can stand with one foot in the chilly North sea and the other in the equally freezing waters of the Baltic; the tides collide with some ferocity and its quite spectacular to see. Skagen was an attractive little town with arty boutiques and shops selling puffer-jacket style onesies.  Like the Moomins, the population of Skagen hibernate in winter – or at least move south.
And so the cruise came to an end and we returned to Southampton – and the scales. There's nothing like a cruise to provide inspiration for a huge menagerie of new characters, or to make you appreciate your relative youth, and your good health. Just because the food is available 24/7 you don't have to eat it – but plenty of people do. The diet begins tomorrow.