I thought I would make a regular feature talking about some of my favourite books.
I volunteer at my local community library. I know there's a bit of a fuss about community libraries. The argument is of course that shouldn't all libraries be funded by the government as an essential service, and if volunteers step in to prevent local facilities like libraries being closed, then it only encourages the powers that be to think they can get away with more cuts. What next, a community GP surgery? Rest assured I wouldn't be volunteering at that…
Anyway, back to the library, the downside of which is discovering all those books I want to read as I tidy the shelves.
This is my current favourite – Life After Life by Kate Atkinson. I read A God In Ruins last year and really enjoyed it so when I saw this on the shelf, I grabbed it. If only I could write like Kate…..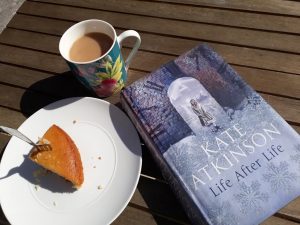 Life After Life tells the story, or several stories in fact, of Ursula Todd. It's a clever and unique concept (why didn't I think of that?) answering all those what if's; Ursula dies at birth, but what if she didn't? What if she fell off the roof when she was 8, but then what if she didn't? How different would her life have been? I find it hard enough to keep one plot and timeline consistent, yet Kate cleverly weaves one 'life' into another, locking all the different story threads and characters together. It's funny, it's sad, and definitely has that un-put-downable quality, which is how I judge a book. Five stars from me.
And talking of five stars, one thing I have learned since I joined this whole writing malarkey is never to judge a book by its Amazon reviews! Is it just me or does anyone else ever get that feeling you're reading a totally different book to the one everyone else has given a glowing review to?!